Term 4 we will spend the day with Alice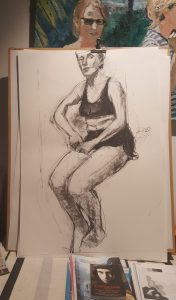 Here is a drawing i did of her in a demonstration for the Howick art group. She has a lovely gentle personality and  a body full of character.
I have painted a number of models over my time .
They are all interesting people. One of my past models stopped me in Ponsonby road the other day and reminded me how i used to get her to  take a bath at my place so i could draw her in the bath like Bonnard!
There is something special about having another human being come and sit so you can draw them.
Please confirm with me if you are joining us this term.
Term starts 10th October
looking forward to it.
In the meantime I am off to Sydney to take my grand daughter to the Archibald!